About Us
Following an expansion of the family company, Helix was incorporated in 1993 with the aim of seeking outlets for the wire formed and prefabricated products in sectors other than the accessories for power lines.
From 1993 to 1997, the company develops new products in the sectors of the cable distribution and the metal buildings industry. At the same, time Helix works out new and faster manufacturing methods, while eliminating the toxic products in the chain of production.
In 2003, Helix obtains the certification of the ISO 9001-2000 standard for the following activities: "Design, development, research, expertise, technical support and manufacture of products in the field of equipment parts and accessories for power lines in transmission and distribution, lines of telecommunications and other related fields."
In addition to the manufacture of preformed products for the electric distribution, the principal activities of the company are now the design, the development and the manufacture of accessories of line having a service life prolonged and conceived to minimize the conductor fatigue failures.
In February 1, 2014, Helix was purchased by Preformed Line Products - an international designer and manufacturer of products and systems employed in the construction and maintenance of overhead and underground networks for energy, communications and broadband network companies.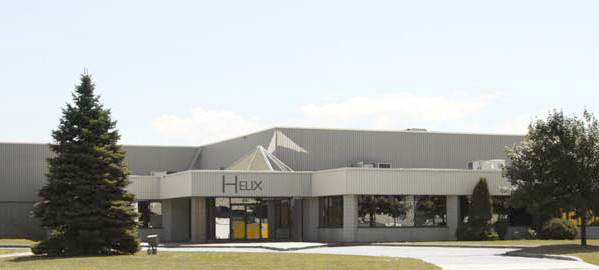 Helix Uniformed Ltd is located in the industrial park in Lachine (Quebec, Canada) near the international airport in Dorval. Helix presently gathers there activities of Research & Development, administration and fabrication. We occupy a surface of 55,000 square feet.